Building an IT team in times of record turnover.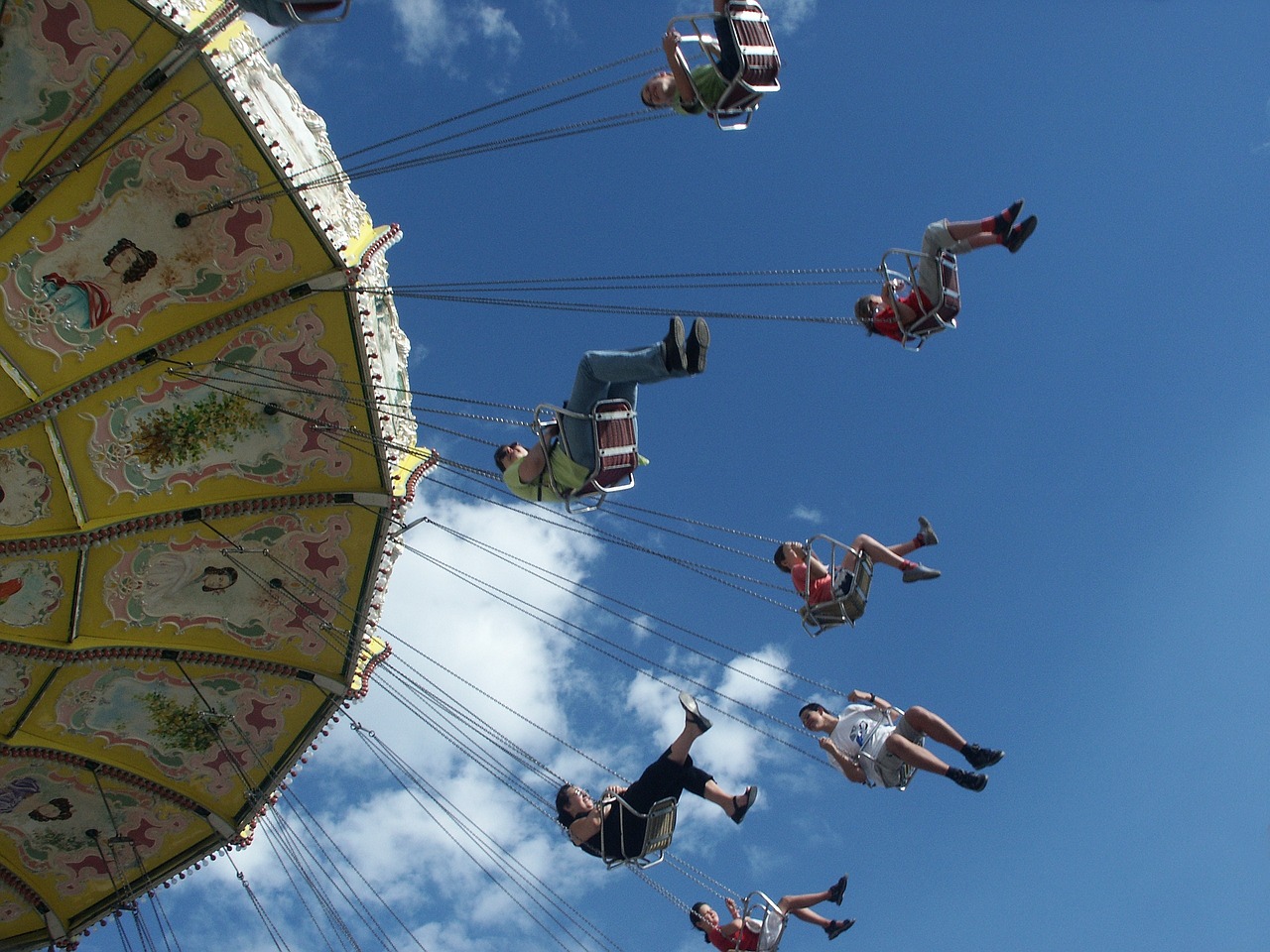 In this, and the upcoming year, turnover will remain one of the main challenges for companies and managers. According to the latest study by the Gallup Institute, 51% of employees globally are either considering or actively seeking new employment opportunities. In Europe, this figure is one of the lowest in the world at 34%. How much is it reflected in the IT sector?
The results of Awareson's study show that in the next 12 months, over a third of IT specialists plan to change jobs, and another third doesn't rule out the possibility of change. Companies are attempting to retain employees, but also face the need to quickly fill gaps in their teams.
Motivation is a key
What makes candidates stay in a project or company for the long term? For the past 3 years, since Awareson has been studying the motivation of IT candidates, remuneration and development have been at the forefront. This year, a record high of 49% of IT specialists have stated they are satisfied with their earnings. As one of the most crucial needs is met, why do employees still leave? The IT field understands that progress is essential; a rich tech stack, working with cloud and data, and now also AI, combined with being part of a strong team, are significant advantages. When development stops, motivation drops, leading to the phenomenon known as "quiet quitting". What if a project doesn't offer room for growth? It's worth creating opportunities within the company for knowledge exchange (even among different teams), vertical and horizontal promotions, and transitions between projects. Remote work opportunities are also essential. Candidates are willing to abandon a promising project if the company demands more than 1-2 days of office work per week. This trend has intensified in recent months. The personality of a supervisor and the quality of company/project management are two factors also becoming more critical for employees.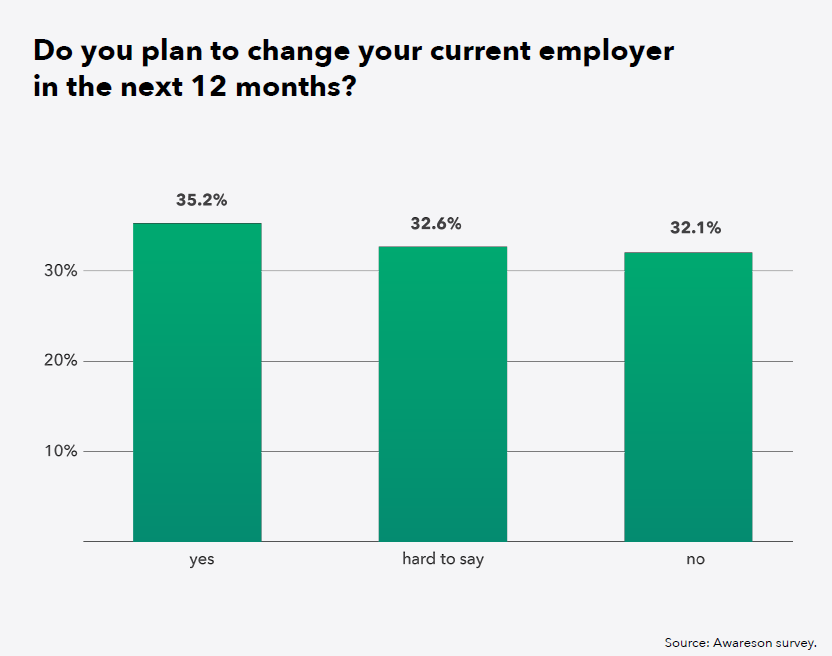 Information directly from the employees of a particular organisation is even more important than statistics. It's worth considering the introduction of annual, semi-annual, or quarterly evaluations. "Stay interviews" are also effective—regular conversations with employees who have been with the organisation for a year or longer (using the "stop, start, continue" method to gather feedback on things that should be stopped, initiated, or continued). These meetings view the company from an employee's perspective. What are its strengths, and what can be improved? It also signals to the employee that their opinion matters, and has an impact on the company. For managers, it allows them to identify issues and react before it's too late.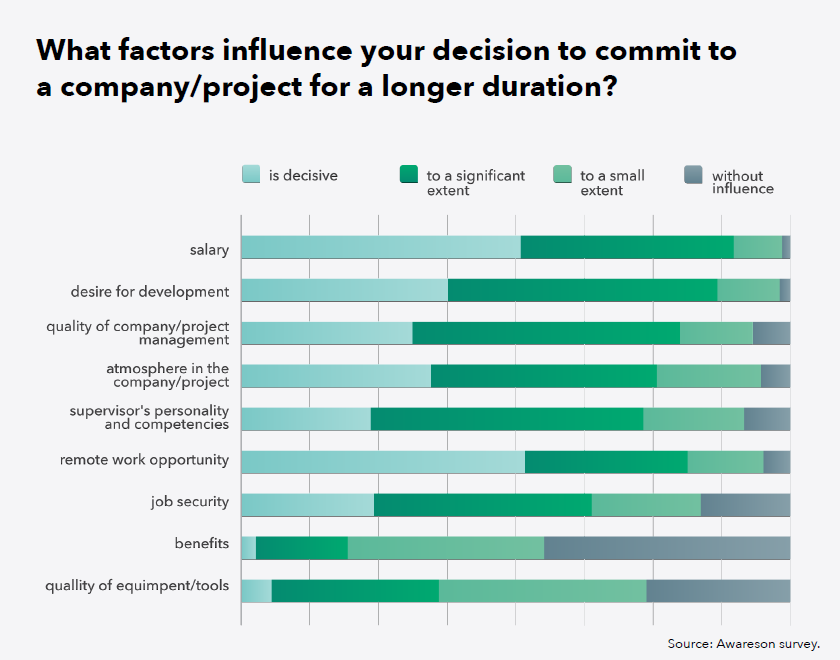 Faster and more precise recruitment process
Not everyone can be retained, and… not everyone is worth retaining. A certain level of turnover has a beneficial impact on an organisation—it allows it to evolve and acquire new competencies. Many companies choose to invest in a portion of employees over the long- term—those who are most independent and best suited to the organisational culture. However, higher turnover leads to more frequent recruitment. How to approach this? It's worthwhile defining the absolute minimum competencies required for a given position—approach its description from an entirely new perspective, questioning every statement. Does the candidate need to be proficient in every technology, and do they all need to be at the same level? Perhaps some competencies already exist within the team? Is fluent knowledge of the German language necessary? Or do all parties communicate in English, as well? Precisely defining the actual job requirements, although consuming more attention at the beginning of the process, saves a lot of time in subsequent stages. In addition to hard requirements, it's also important to clarify the most crucial elements of the company's culture and values. Even a technically excellent candidate, if not a cultural fit, is likely to leave quickly
Let's not paint the grass green
As the saying goes, "the worst truth is better than the best lie." Adding colour to reality, at best, results in a candidate resigning during the process or rejecting an offer; at worst, it leads to recruiting an employee who will quickly leave. Reality verifies all the declarations from the recruitment process. Is the role demanding? Many people enjoy challenges and thrive in such environments. Does the project not offer room for growth? For some candidates, security and a well-organised work environment are more important.
Pre-onboarding – a concept or tool?
With high turnover, considering 'pre-onboarding' is worthwhile. It's the time between accepting an offer and starting work with a new person. It can be used to share details about the position, team dynamics, and the company with the future employee. What will the first day, week, and month of work look like? This helps the individual prepare for the change and speeds up the onboarding process. This can be done through a "welcome book," a collection of knowledge and rules within the company, such as organisational culture, benefits, and administrative matters.
Effective onboarding
The most crucial part of team building is proper onboarding. Traditionally, this used to take around 3 months, but in a situation where a large pool of specialists change jobs every year, such a lengthy onboarding period becomes too costly. So, how can we improve and speed up onboarding? It's a good idea to divide the training into two parts. The first part includes only those elements that are essential for starting work. This typically involves becoming familiar with all systems and tools that the specialist will use in the position. At Awareson, this stage has been shortened to a month, assuming that after this time, the employee should be 100% independent. The second part should include training to enhance skills.
Last but not least…
An "exit interview," a conversation with a departing employee, is the best tool to find out what led to the separation. It's also valuable to analyse the reasons for departure within the company in a standardised manner, such as by talking to immediate supervisors and colleagues. Was the employee mismatched technically, in terms of personality, or perhaps they simply completed their tasks within a specified time frame and there was no room for further collaboration?
Outsourcing
Body leasing, contract work, and freelancing are the job market's responses to turnover. 18% of surveyed IT specialists declare that they work on contracts, and half of those employed under standard employment contracts, consider this option. Such a choice is usually driven by economic factors and a desire for development. Contract rates are still 20-30% higher than those for permanent positions, with there being a slight risk of unemployment between contracts. More and more experts are also self-sufficient enough to effectively manage their time and tasks without needing organisational integration.
Download the Awareson report "Who sets the termes here. IT and SAP job market, 2024"
FIND OUT HOW WE SUPPORT THE BUSINESS IN DEVELOPING IT AND SAP TEAMS.
DO YOU WANT TO DEVELOP IN THE IT OR SAP AREA? CHECK OUT OUR OFFERS.