Development in genetic code.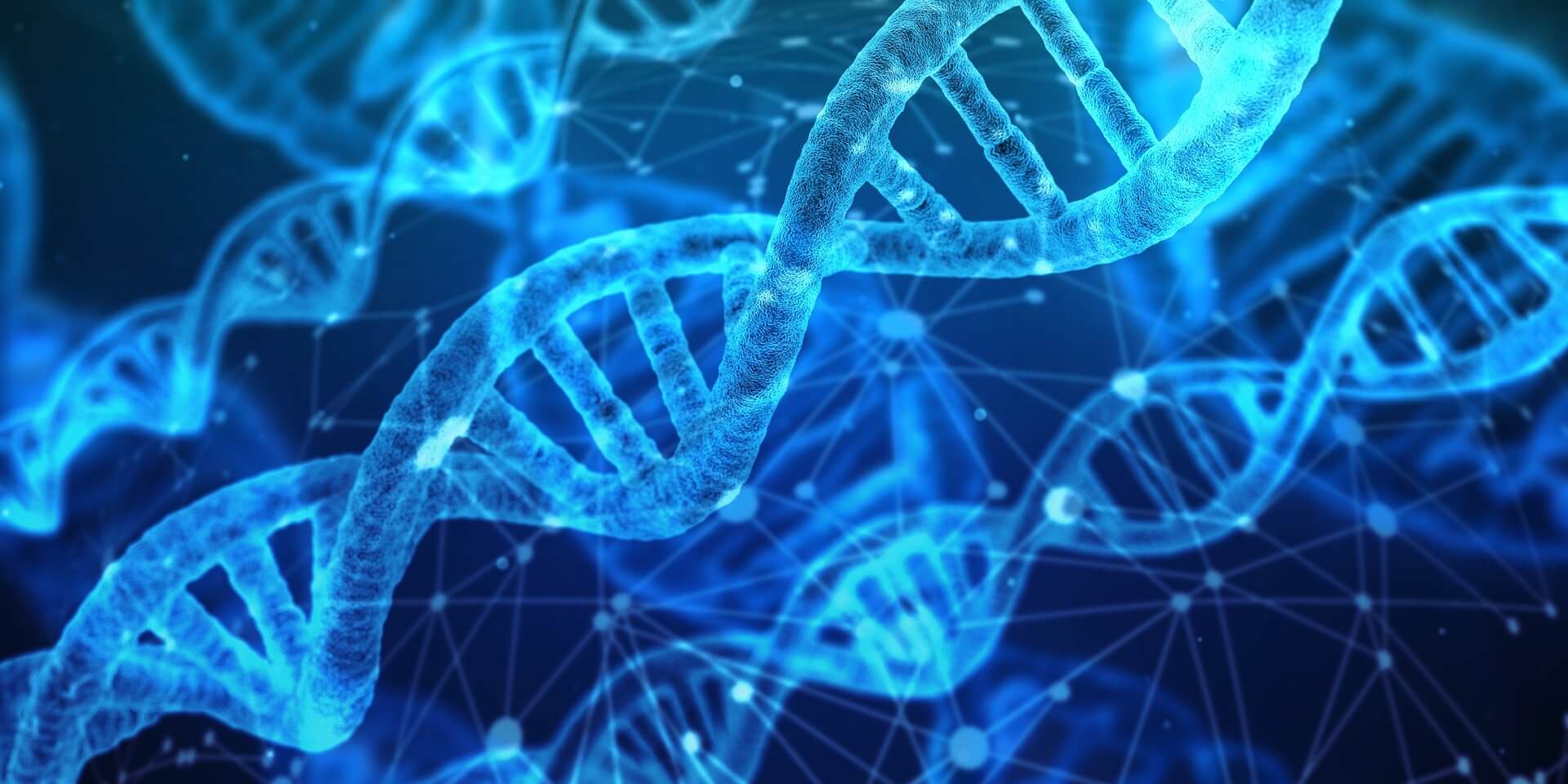 It's said that IT specialists have development in their DNA, and it's hard to disagree when talking to experts in this field. The desire for growth is the main motivation for job changes this year. It's a decisive or very important factor for 3/4 of the surveyed candidates. Only 1 in 10 candidates are entirely unaffected by it, when deciding to change employment.
A developmental project is primarily a long-term project, usually at the end client's site. Candidates are drawn to migration projects (especially to cloud environments),those requiring integration, as well as projects that need connecting or changing technologies. Tasks that involve modern tools and software versions are sought after. The work should be organised in an agile manner. An international environment is advantageous, where there's an opportunity to learn from others and exchange experiences. It's good if the leader is an authority figure, who also allows specialists to choose technologies and explore new solutions.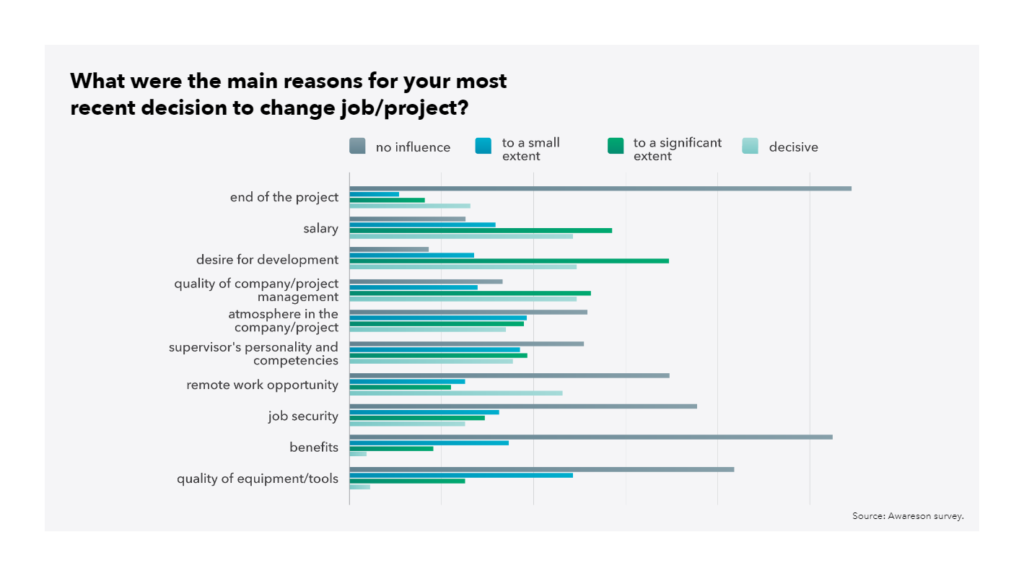 Why is development so important? Candidates demand it from themselves, and the market demands it from them. No two projects are identical, even if they seem similar having a near identical technological stack – they differ in their solutions. Employers are seeking experts who can, independently, complete tasks in changing circumstances. Not only technical knowledge matters, but also experience, agility, creativity, and the ability to self-educate. Can a candidate who knows Java 17, also adapt to older versions, if the need arises? What added value will they bring to the team, and what will they teach others?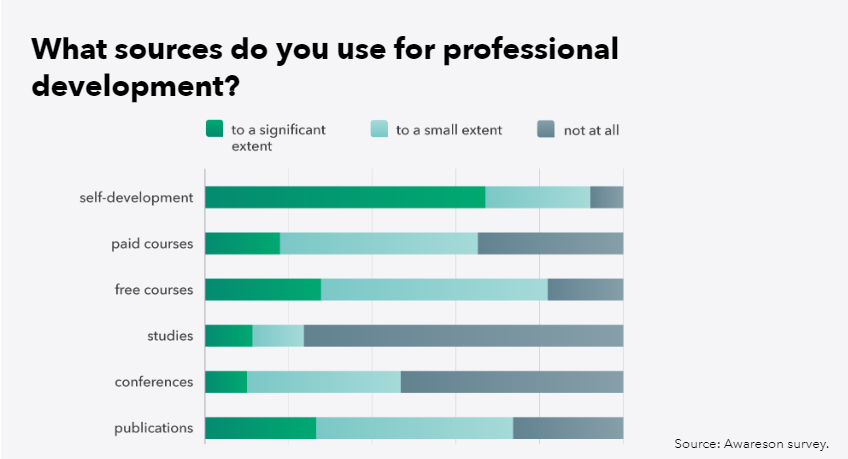 Development (solely) on one's own? For IT specialists, development primarily means self-directed knowledge-seeking. Many admit that after 8-9 hours of work per day, they return to their computers in the evening to finish tasks, search for alternative solutions, or read up on a technology they heard about during a daily meeting. Few companies have systematically organised processes for knowledge sharing and retention. Recording internal training sessions, allocating specific time for development and self-learning – these are still rare. However, some companies allocate around 10-20% of time for so-called "breathing space." It's also difficult to find training that would be attractive to a large portion of specialists. Therefore, they mainly learn on their own. Their sources include industry publications, free courses, and occasionally paid courses. While solving tasks they're proficient in with one hand, they're using YouTube or Udemy with the other, to learn something new. They primarily develop in the workplace, but many also devote several hours per week to additional self-development.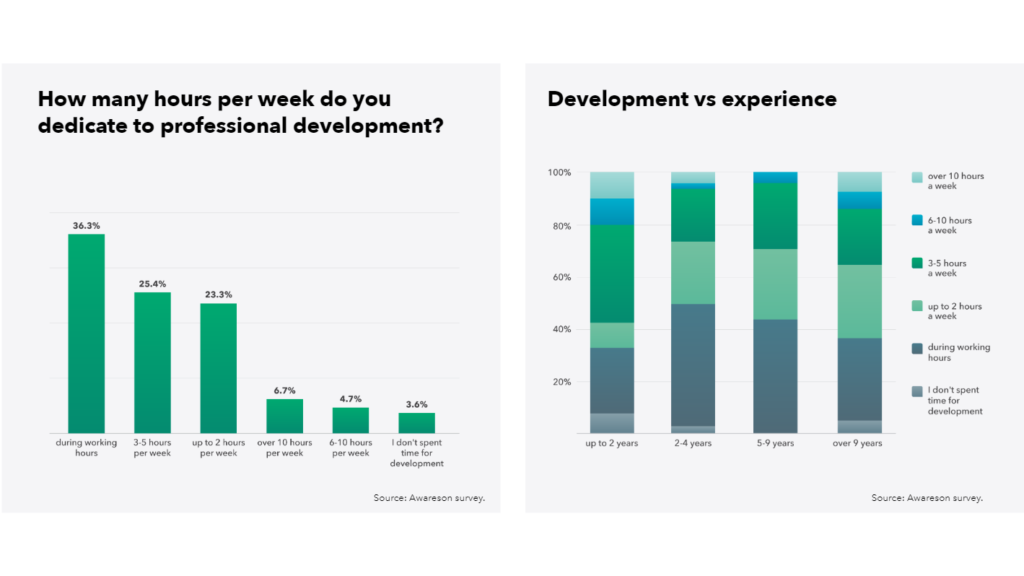 Łukasz Jura, DevOps at Awareson (14 years in IT, 4 years in CloudOps/DevOps)Development is crucial for me when choosing a project. I see it as a diverse technological stack and the challenges it offers. Two different clouds, various technologies – they don't scare me, they encourage me. I'm practically learning all the time – the boundary between work and after-hours development is very flexible for me. There are times when I dedicate four evenings a week to work, but it's not a rule. If I can't find a solution during the day, I simply come back to it in the evening, or when the solution comes to mind. Currently, senior roles demand complete autonomy. In projects, no one guides you through tasks, you have to 'roll up your sleeves' and get the job done. There's no one playbook, certain actions can be replicated, but usually, you have to learn many things. Typically, this learning is reliant on your own efforts, because not many specialists have time to share knowledge.
Is there room for juniors in all of this? Job offers for people with little or no experience are few and far between. Due to trimmed budgets and growing technological debt, not many companies invest in juniors. Motivation can also be a problem. Some newcomers enter the industry driven by passion and technological interests, but there's no shortage of people who are solely attracted to IT by earnings. Learning for several hours a day can be challenging for them. Yet, for now, juniors are the ones actually learning the most.2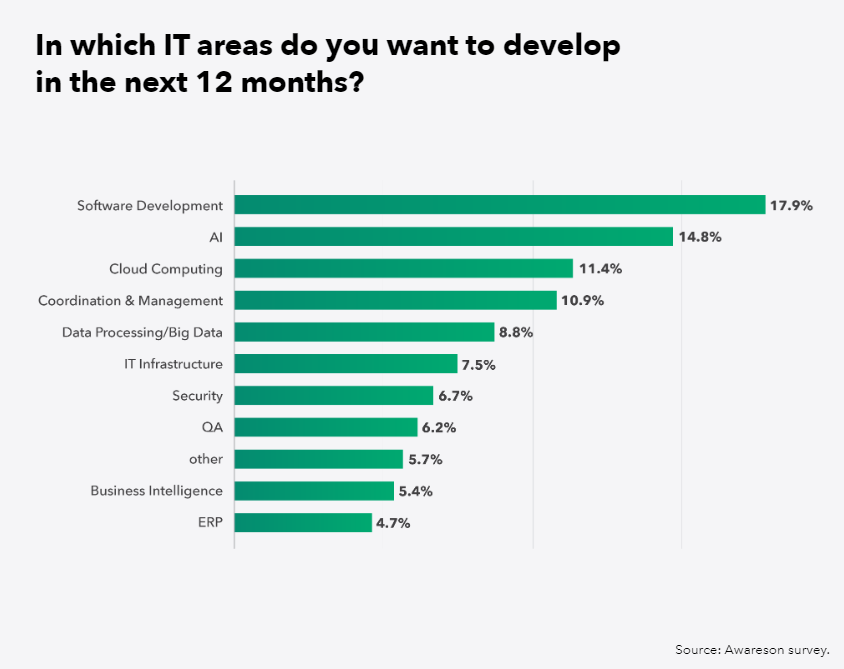 Narrow specialisation or broad horizons? There's no single trend here. After a few years of work, some specialists decide to stick with a leading technology, only learning the basics of related tools. However, many opt for versatility. Recently, cloud solutions (especially Azure and AWS), DevOps environments, and artificial intelligence have been particularly popular. Experienced specialists assert that financial motivation alone is insufficient to succeed in IT.
Download the Awareson report "Who sets the termes here. IT and SAP job market, 2024"
FIND OUT HOW WE SUPPORT THE BUSINESS IN DEVELOPING IT AND SAP TEAMS.
DO YOU WANT TO DEVELOP IN THE IT OR SAP AREA? CHECK OUT OUR OFFERS.