Which SAP modules are the most popular in Poland?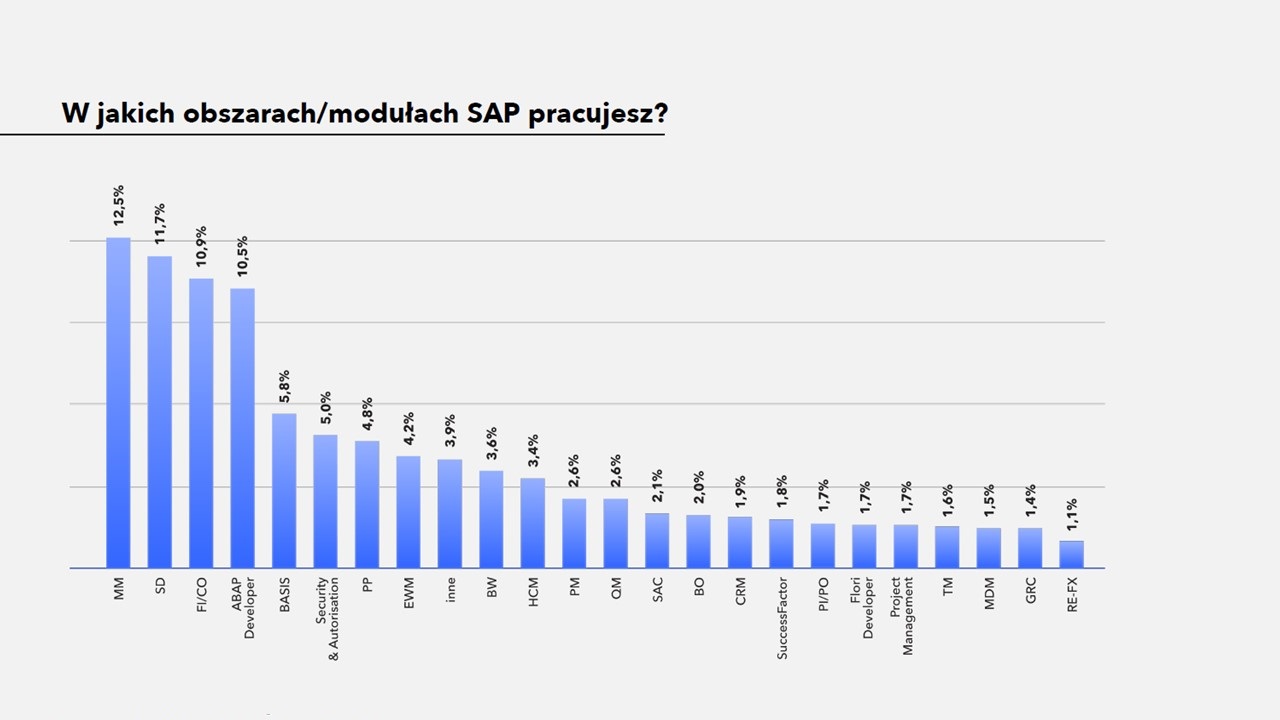 The most popular SAP specialisations in Poland are logistics MM and SD (the share of SAP MM consultants is 12.5% and SAP SD is 11.5%), which is a logical consequence of many manufacturing organisations choosing Poland as a location for their factories. This trend will continue – over 18% of respondents surveyed by Awareson plan to increase the employment of MM and SD specialists. Next are the key financial management modules: SAP FI and CO consultants account for 10.9% of this professional group. 10.5% are ABAP developers. The relatively high share of SAP specialists in Security and Authorization (5%) is interesting, as a few years ago they were a niche. This is a response to the challenges posed by remote work, distributed infrastructure, and the use of public cloud services.
| | |
| --- | --- |
| 24% | 18% |
| of respondents are MM or SD consultants | of companies are increasing employment in SAP MM and SD |
What SAP areas/modules do you work in?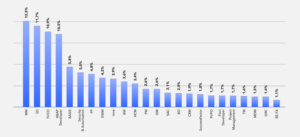 When it comes to broadening knowledge in this area, the majority of specialists want to learn how to program in the ABAP language. This is due to increasingly complex business requirements and the need to adapt the system to the needs of a particular organisation. Competence in modifying source code increases the value of a given expert. Further choices concern the MM, SD, FI, and CO modules – which is a logical response to market needs. An interesting trend is a desire to develop skills in SAP FIORI (UX/UI system). Currently only 1.7% of consultants work with it, but another 5.3% plan to learn it. This is consistent with the business message of the SAP system manufacturer, who by enabling integration of their ERP with IoT, Big Data, and Machine Learning solutions, aims to take the organisation's business process management to a new level.
| | |
| --- | --- |
| 12.3% | 5.3% |
| want to learn ABAP programming | will be developing skills in SAP Fiori |
In which areas/modules of SAP you want to develop in the next 3 years?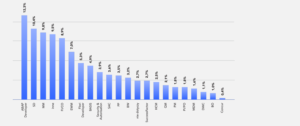 The article is part of the report "SAP labour market in Poland. Analysis and forecasts for 2023-2025." The entire report can be downloaded free of charge here: DOWNLOAD SAP REPORT
FIND OUT HOW WE SUPPORT THE BUSINESS IN DEVELOPING IT AND SAP TEAMS.
DO YOU WANT TO DEVELOP IN THE IT OR SAP AREA? CHECK OUT OUR OFFERS.