DevOps – the Most Desired IT Specialist This Year?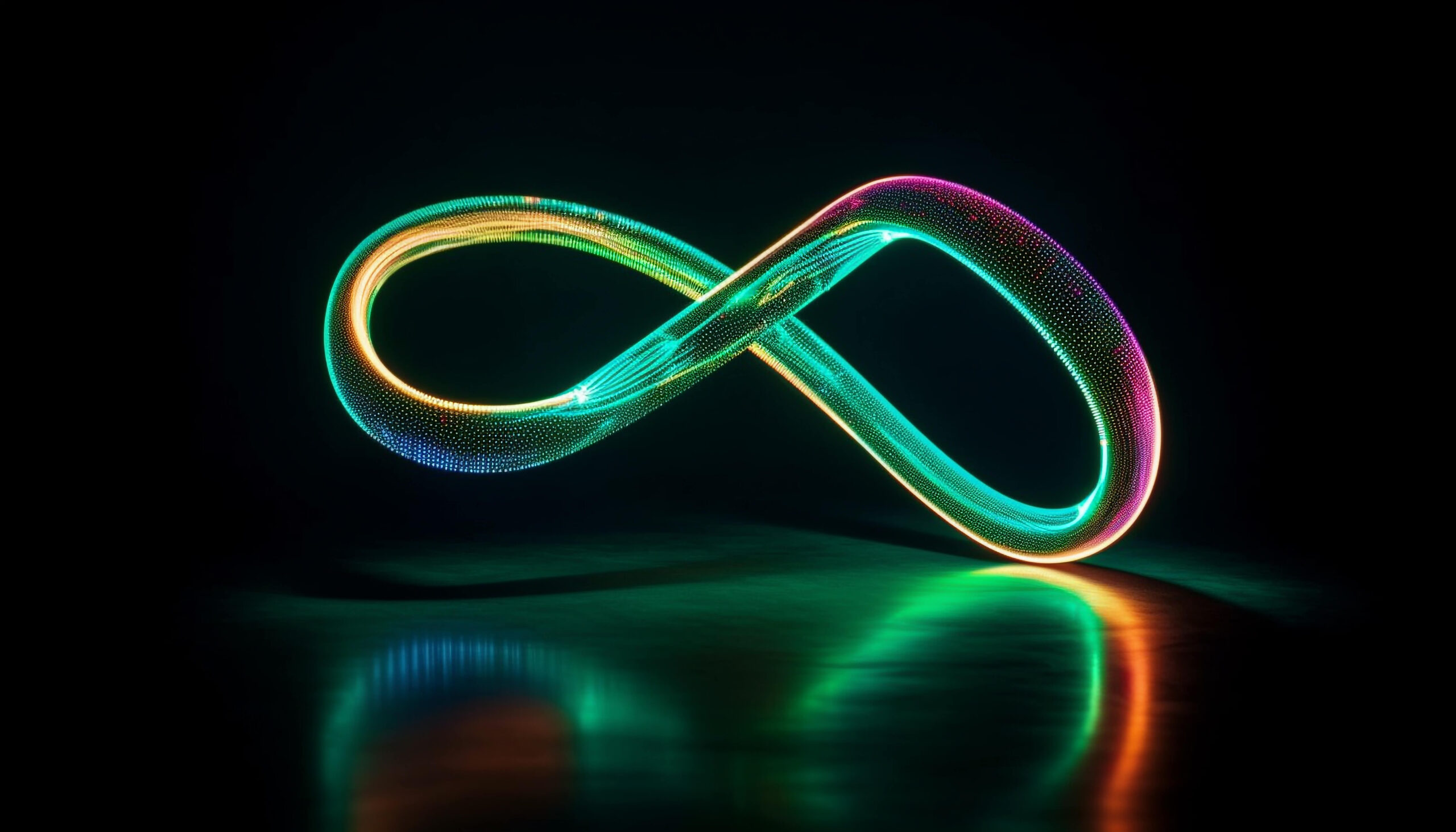 After several years of dynamic growth in employment and salaries, the IT job market has clearly slowed down. There are over a third fewer job offers than the previous year. However, there are IT areas where the demand for specialists is increasing, and one of them is DevOps. Why?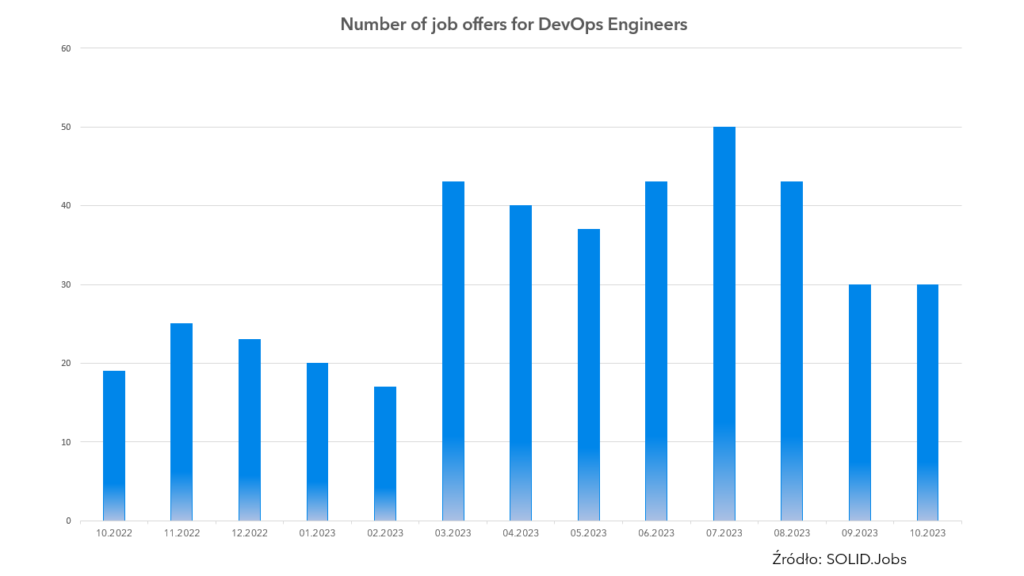 In the simplest terms, DevOps engineers automate and streamline the work of development teams, allowing them to deliver IT solutions faster, more efficiently, and continuously. For companies facing both technological development needs and economic slowdown with cost reduction, DevOps is an ideal solution. They gain more scalable and efficient solutions.
Are you looking for DevOps engineers? Contact us. We will find the best DevOps for you!
Who are DevOps specialists in Poland?
The demand remains strong – what about the supply? According to LinkedIn data, there are 37,000 DevOps professionals in Poland, with 11,000 working in positions such as engineers, specialist leaders, and DevOps managers. According to Awareson's survey conducted in July 2023, nearly half of the DevOps professionals in Poland have over 10 years of professional experience. The data confirms that seniors and experts (with over 9 years of experience in the IT industry) make up 57% of respondents, mid-level professionals 28%, and juniors 15%. They are experienced yet relatively young, with most declaring an age between 31 and 40 years.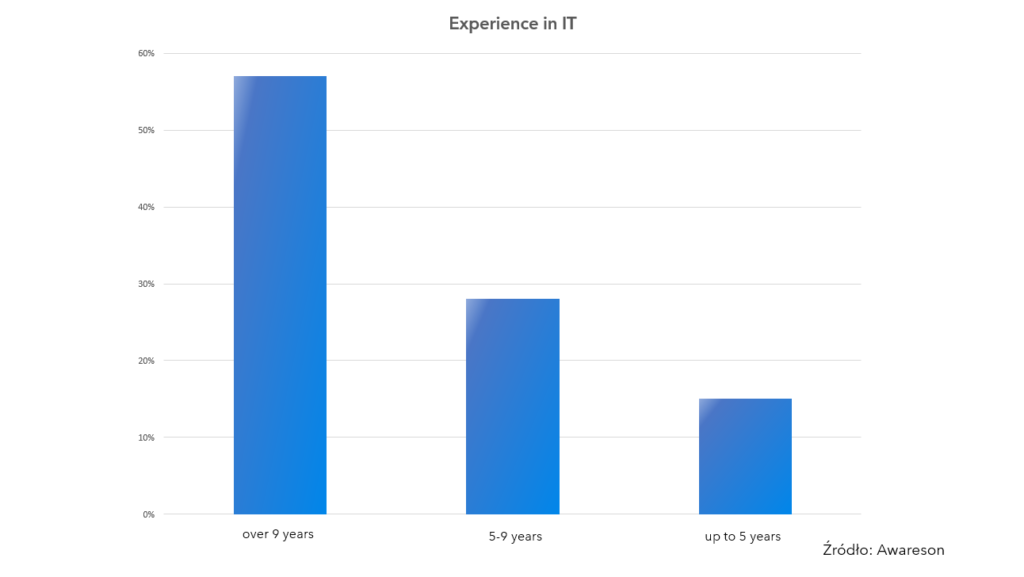 DevOps professionals are typically specialists who are already familiar with the IT industry, having gained knowledge through practical experience as developers, IT operations specialists (ITOps), analysts, or testers. Two-thirds of them have completed computer science or related studies such as mechatronics, telecommunications, or mathematics. They continue to develop their skills, with every fourth DevOps professional dedicating over 15 hours per month to further education. Only 6% claim to have no time for additional learning. The most popular sources of knowledge include YouTube, websites, and free courses.
What skills do DevOps need?
The most important skills include:
Understanding the software development and delivery process
Knowledge of Continuous Integration/Continuous Delivery (CICD) tools such as Azure DevOps, Jenkins, GitHub Actions, etc.
At least basic knowledge of application development
Skills in working with code repositories (usually Git)
Implementation of code delivery to the client (application deployment)
Scripting skills + Infrastructure as Code (IaC)
Skills in server management and server infrastructure deployment
Ability to configure network infrastructure
Knowledge of virtualization (servers) and containerization, e.g., Docker
Familiarity with monitoring tools
How do DevOps professionals work?
According to Awareson, over half, or 54%, of surveyed DevOps professionals work on B2B contracts. Every fourth admits to working on projects for more than one client, treating agencies or outsourcing companies they are associated with and the end client as two clients. They are fully flexible in terms of employment form. Over 90% would switch from B2B to employment or vice versa for a good project.
Close to 40% work extra hours, usually not exceeding 9 hours per day. They mostly perform their tasks fully remotely (72%) or in a hybrid mode (28%). For a good job offer, they are willing to come to the office, but not more than 3 days a week.
Motivation for work
The most common reason for both changing jobs and staying in the current position longer is the opportunity for development. Other IT specialists also prioritize this aspect. DevOps professionals, more than others, pay attention to the quality of management, considering it as important as salaries. A staggering 84% of respondents declare satisfaction with their current compensation. However, they still expect a raise in the coming year, most commonly around 10%. Salaries typically fall within the range of 130-240 PLN per hour, but experienced engineers and leaders can exceed 300 PLN per hour.
DevOps Engineers' Salaries:
| | | |
| --- | --- | --- |
|   | Mid | Senior/Expert |
| B2B (net PLN/h) | 130 – 160 | 160 – 240 |
| PERM (gross PLN/month) | 16,000 – 23,000 | 24,000 – 32,000 |
Surveyed by Awareson, DevOps professionals are not afraid of losing their jobs but are open to changes. One-third declares that they will change employers within the next year.
Data comes from a survey conducted by Awareson in July 2023 among 204 IT specialists, analysts from the SOLID.Jobs portal, the SysOps and DevOps Community Report in Poland by the SysOps/DevOps Poland foundation, and LinkedIn.
Are you looking for DevOps engineers? Contact us. We will find the best DevOps for you!
Download the Awareson report "Who sets the termes here. IT and SAP job market, 2024"
FIND OUT HOW WE SUPPORT THE BUSINESS IN DEVELOPING IT AND SAP TEAMS.
DO YOU WANT TO DEVELOP IN THE IT OR SAP AREA? CHECK OUT OUR OFFERS.