When America sneezes… Polish IT is cautious.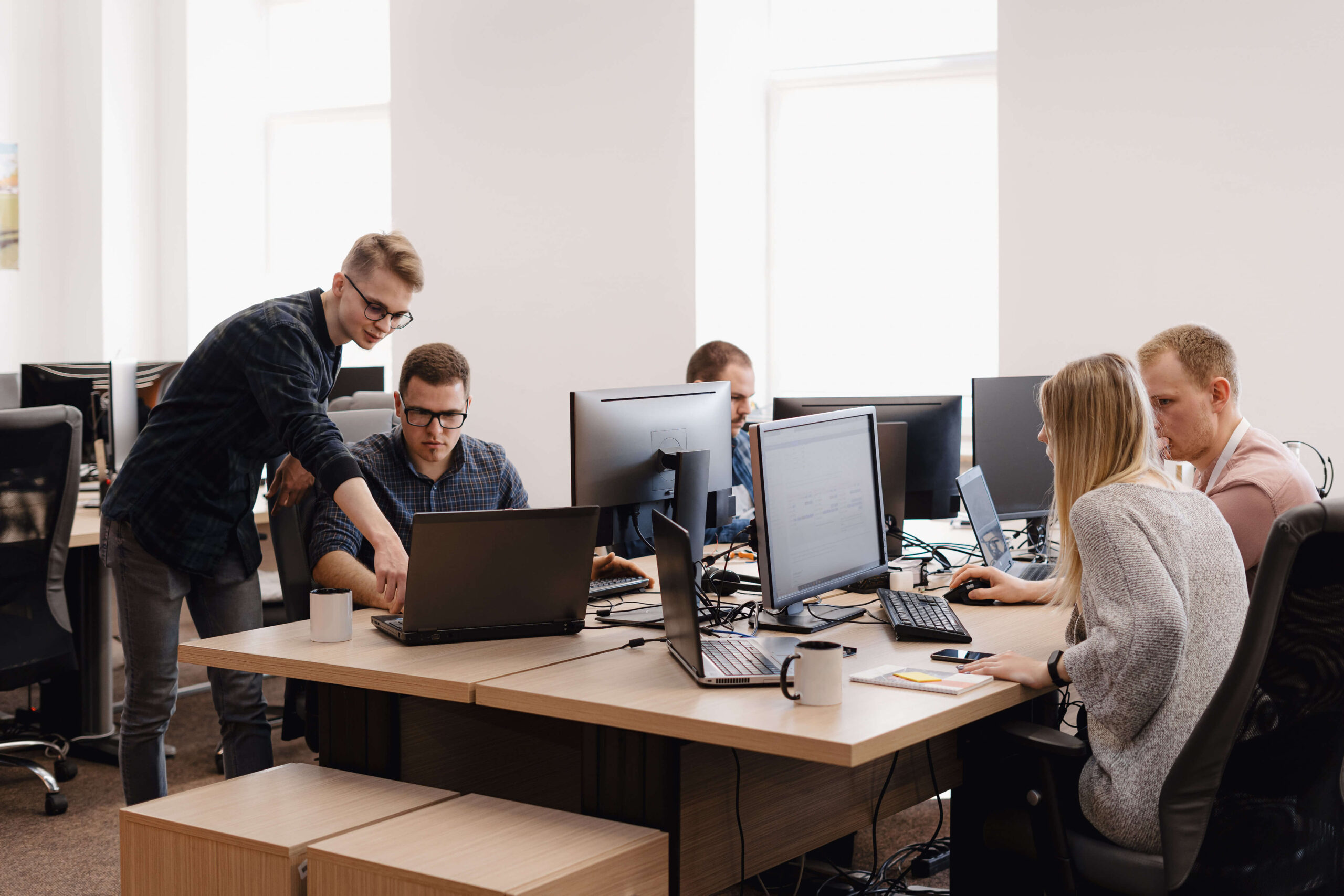 Over the past three years, the IT job market in Poland has been referred to as an "Eldorado". The average salary here was four times higher than the average salary in the economy as a whole. Candidates were could choose from several, sometimes over a dozen offers. It cannot be denied that the idyllic picture of the labour market for IT employees is changing. In the last quarter of 2022, we started to see some projects being put on hold, so there was a lot of uncertainty. Since January this year, companies have started to make serious decisions, both about creating projects and putting new investments on hold and laying off employees.
We surveyed the market: cautious optimism among companies.
Awareson, which specialises in the IT outsourcing field and HR consulting, including recruitment, seeks to answer questions about the state of the industry and its prospects. Our research conducted in February 2023 draws an optimistic picture but at the same time presents that companies remain cautious. More than 41% of IT leaders and HR professionals from the technology industry assume that the number of their projects this year will be at a similar level to last year, and almost 37% anticipate an increase. This means that 78% of companies are not experiencing a slowdown and more than one-third are planning to expand. Only 11.8% of those surveyed admitted that the number of planned IT projects is lower, a similar percentage is not able to determine this yet.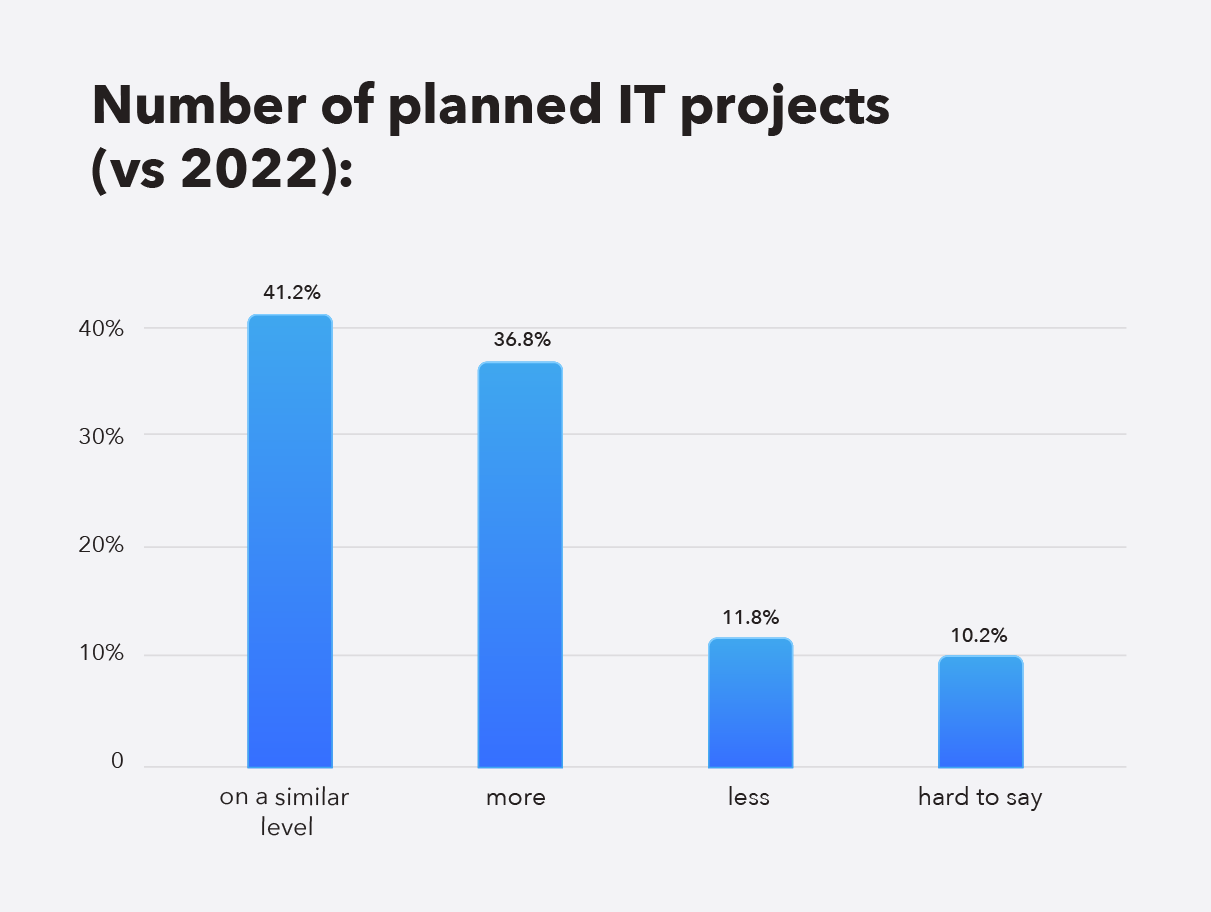 Most companies are planning to increase employment.
New and planned investments translate into employment figures. Almost two-thirds of the companies surveyed by Awareson will be expanding their teams this year. The fear of layoffs among some IT employees is justified. One in six companies plans to reduce their workforce. One-fifth of companies want to maintain the status quo.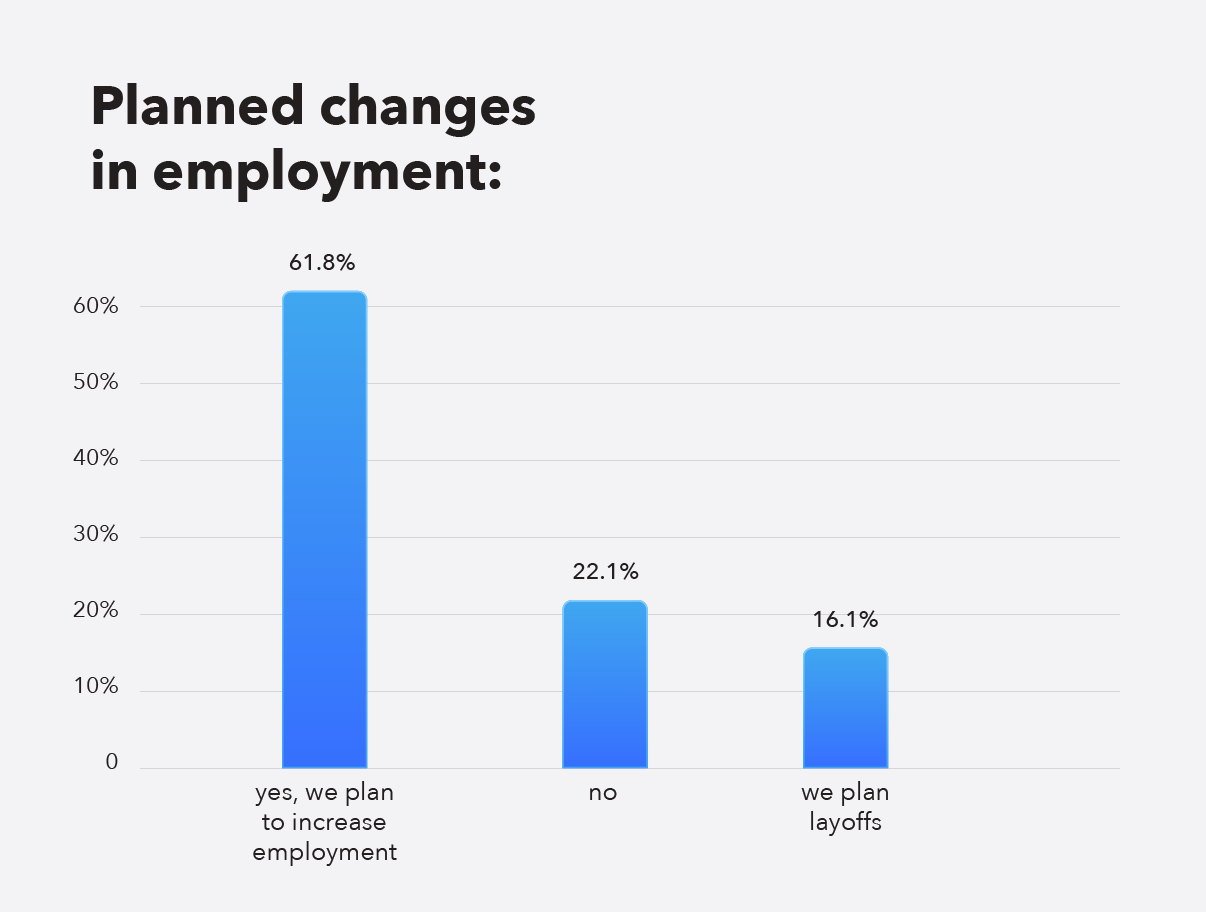 The redundancies mainly concern large software houses, employing more than 250 people and companies from the e-commerce and FMCG sectors, in other words, those most dependent on customer demand. Such a high forced turnover will be an opportunity for hiring businesses to gain new talented employees. Experts leaving IT companies may find employment with end customers in the technology-invested finance, banking, energy and pharmaceutical industries.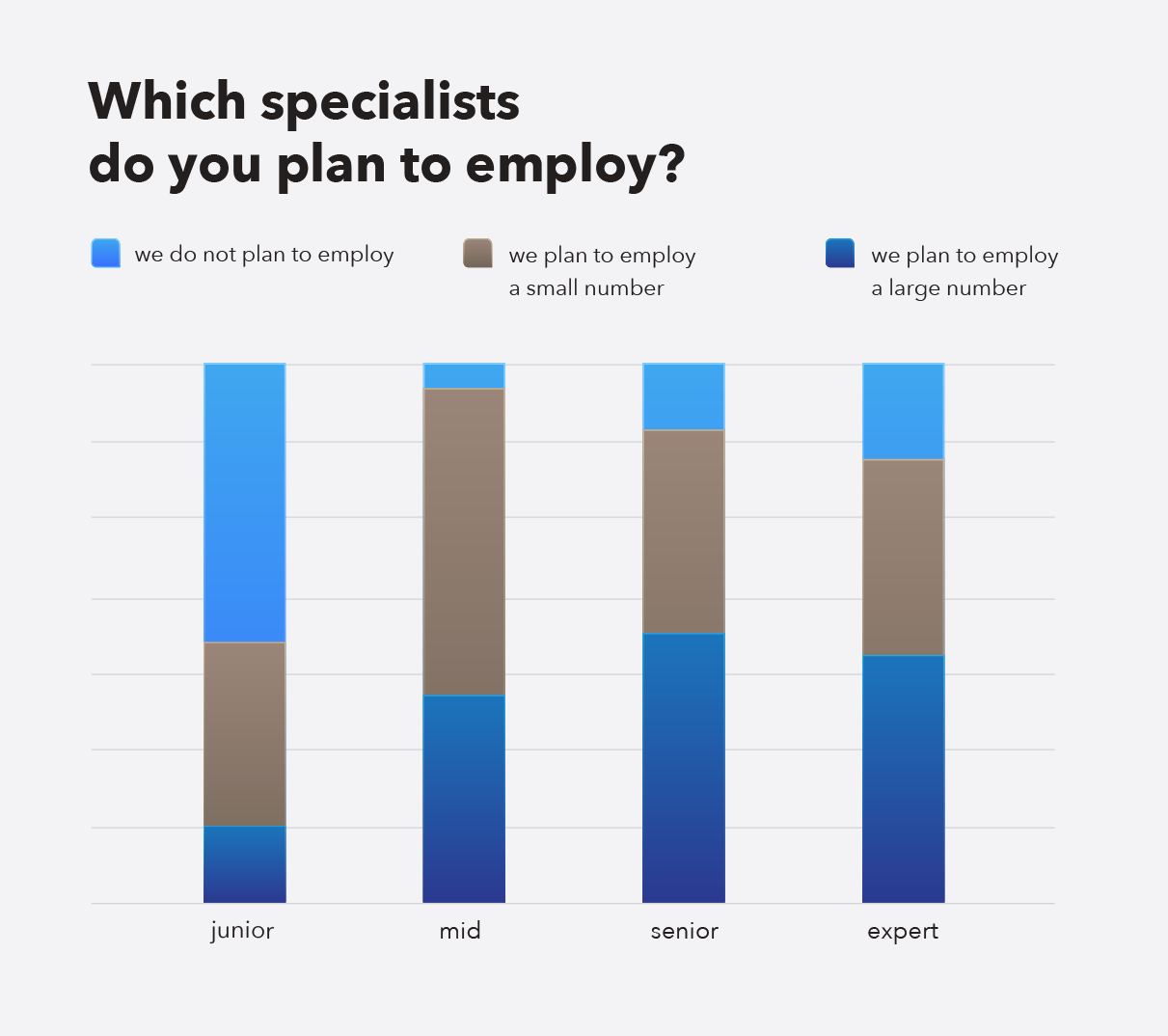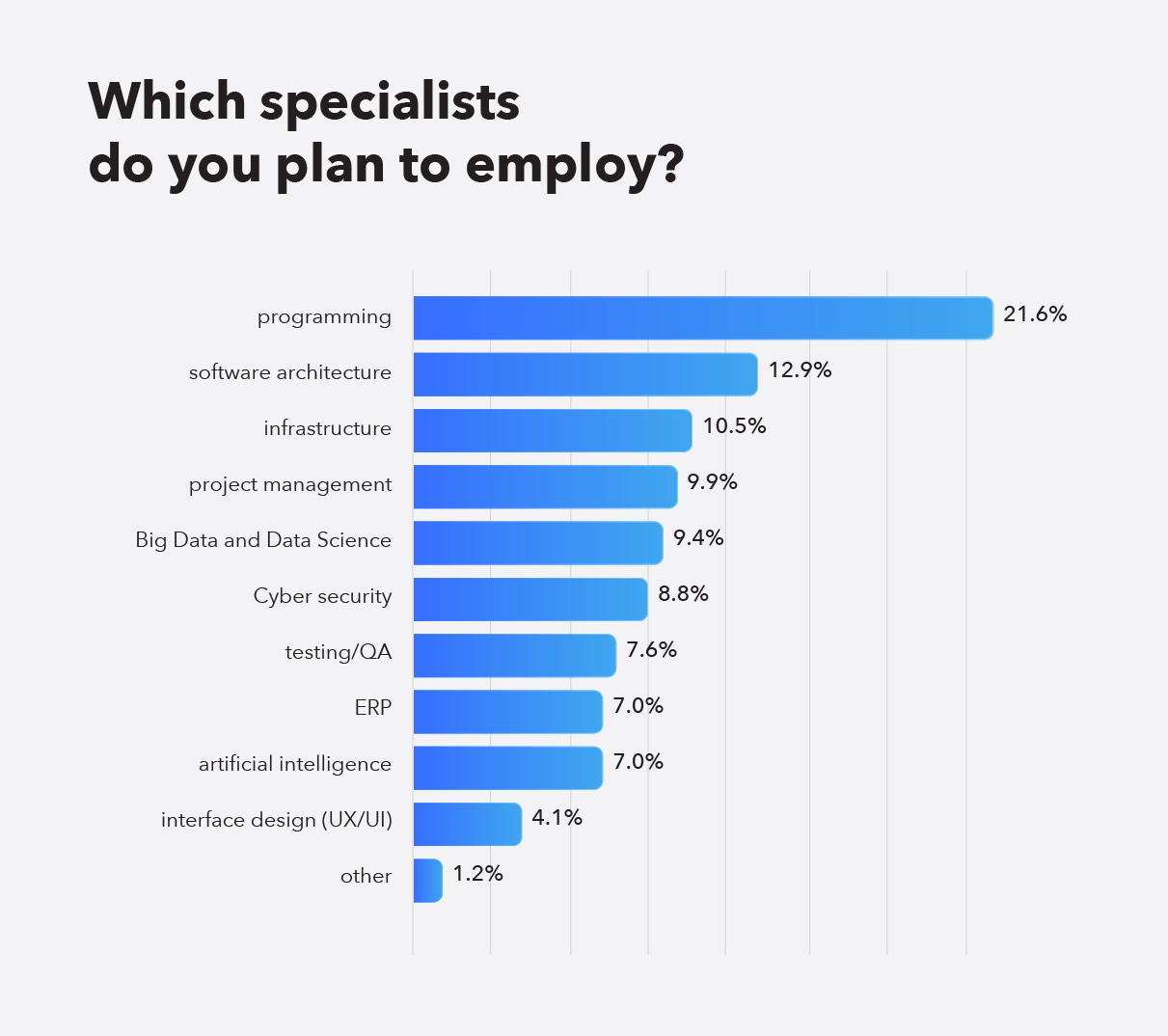 Who are companies looking for? Where are layoffs being prepared?
Most, because over one-fifth of new job offers will be addressed to Programmers. This is not surprising, since they represent the majority of the IT job market. Architects, and Infrastructure Experts, including DevOps and Management Engineers, will also be desirable. Data Analytics and security specialists are in  \demand as well since these are two areas of IT in which companies have been invested the most resources in recent years.
But not everyone is going to be sought after. The companies surveyed by Awareson say they will hire seniors and experts to a large extent. More than half do not intend to hire juniors. What is justified today, in the long run, may be problematic for companies because transferring knowledge to juniors and letting them gain experience is essential for the industry's further development.
Again, Developers, especially those with little experience, are the most likely to lose their jobs in companies that plan to make redundancies. Equally often companies pointed to testers. Interface and infrastructure Developers may also fear for their jobs. The higher the level of experience, the lower the risk of job loss. Nearly 60% of companies that will be cut jobs declare that they will not lay off experts, seniors or regulars to a small extent. The greatest number of cuts should be expected among employees with up to two years of experience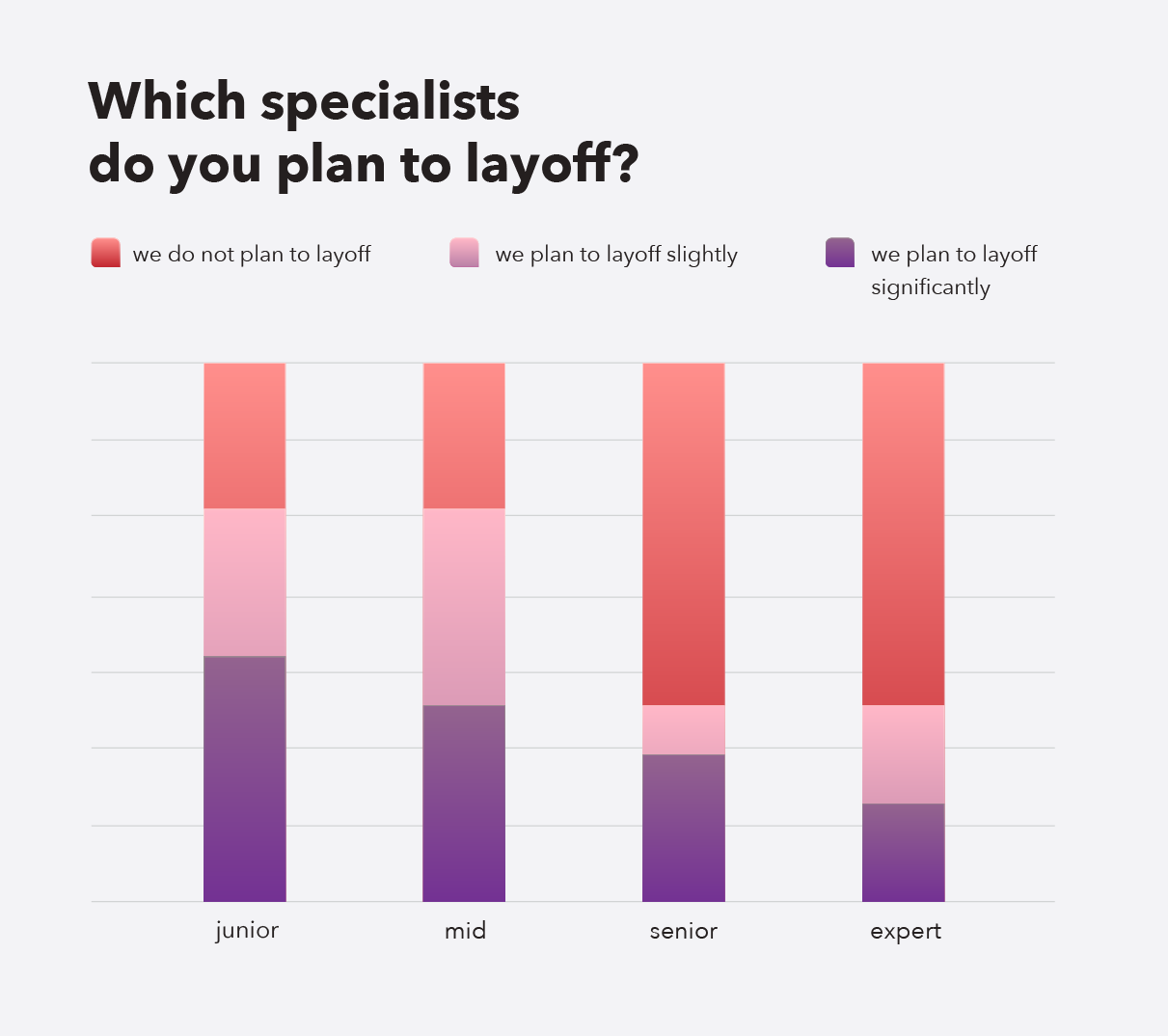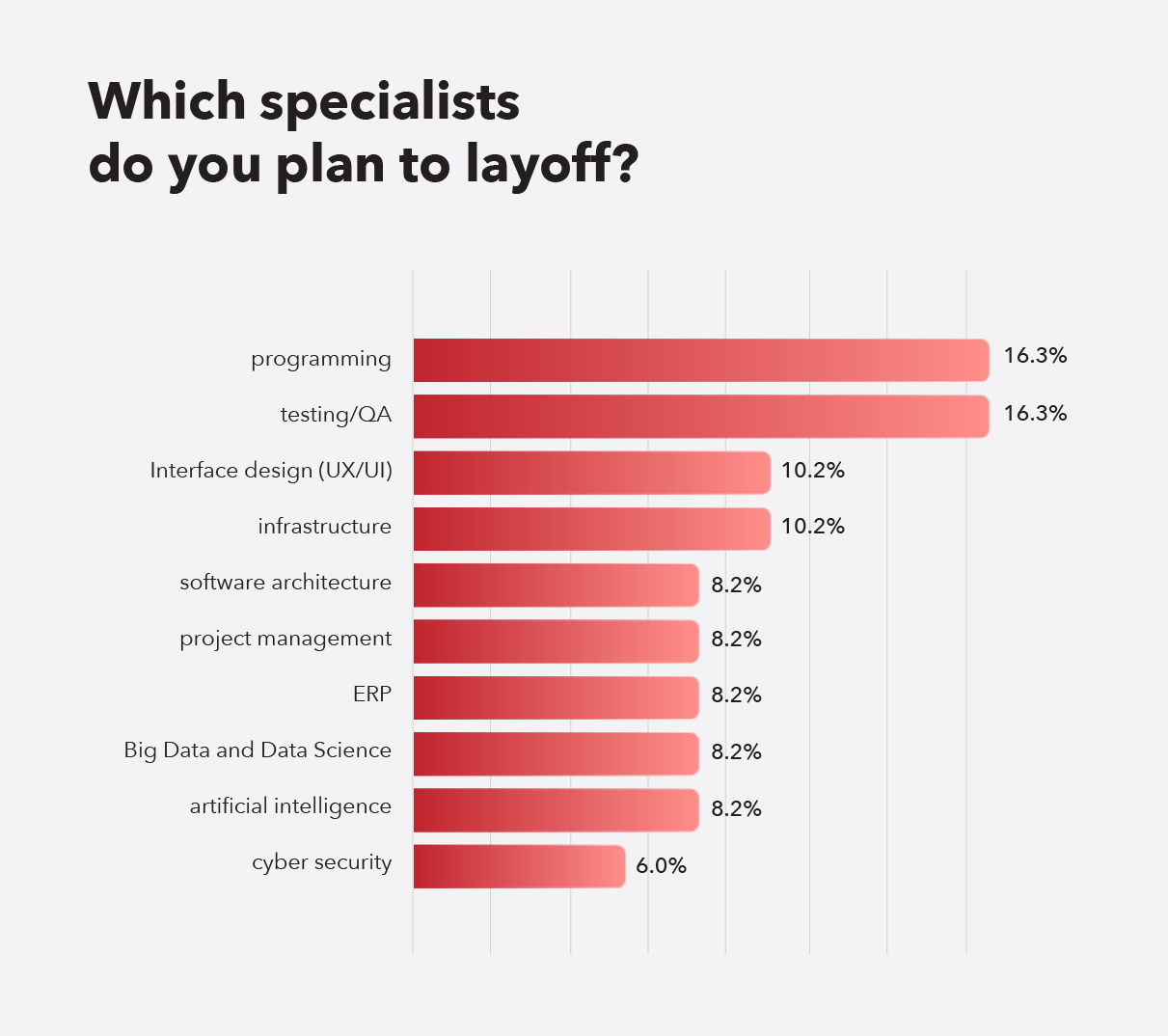 The end of the "Eldorado"? What about salaries?
Recent years have seen a dynamic increase in the rates of IT professionals. There are many indications that salaries will continue to grow this year as well, although the rate of growth will slow down and will be less than inflation – so they will not be real increases. Two-thirds of companies are planning pay rises, but the majority of them by no more than 10%. One in four companies will maintain salaries at the current level, and a few are planning to pay less than at present.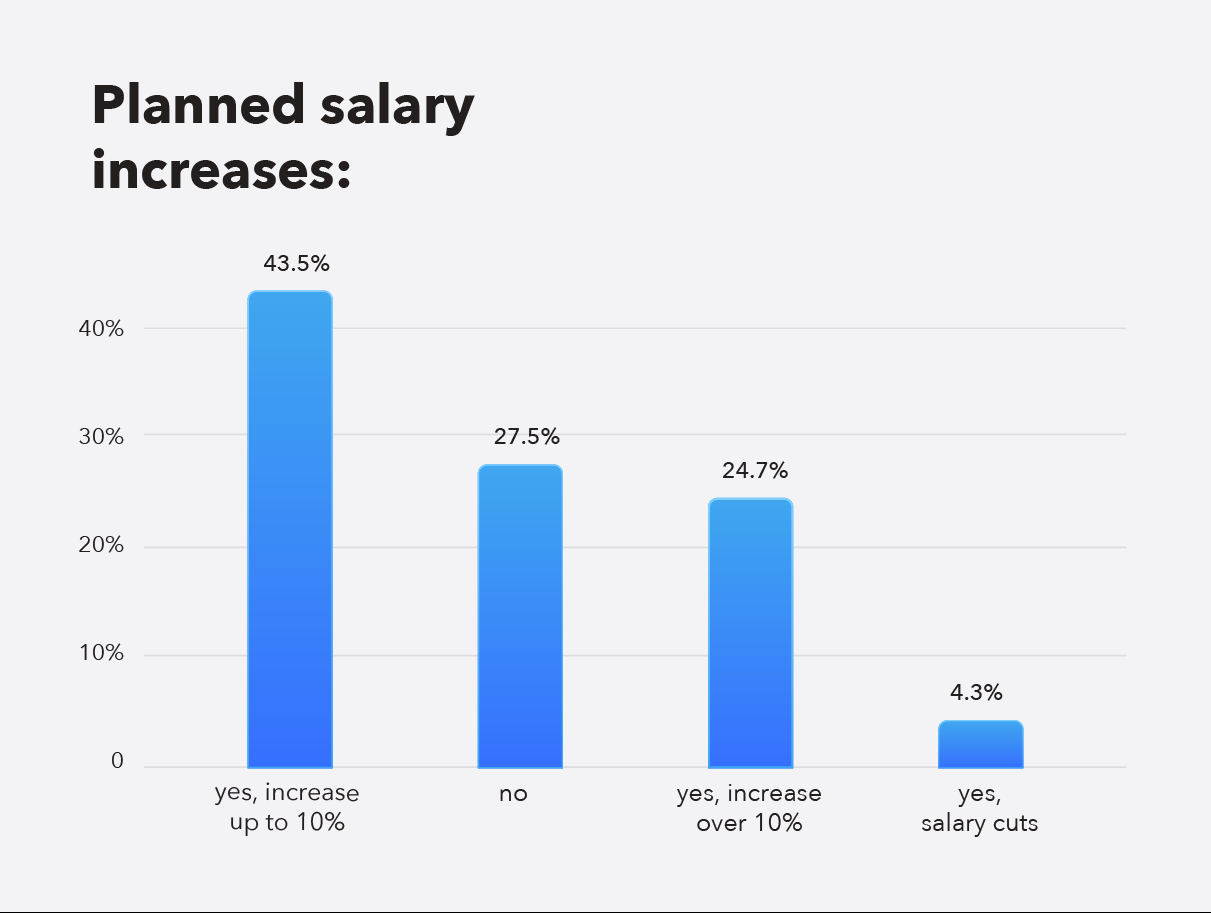 HERE YOU CON DOWNLOAD FULL REPORT "LAYOFFS IN IT. WE DISPEL THE MYTHS"
FIND OUT HOW WE SUPPORT THE BUSINESS IN DEVELOPING IT AND SAP TEAMS.
DO YOU WANT TO DEVELOP IN THE IT OR SAP AREA? CHECK OUT OUR OFFERS.