Young, experienced, and eager for development – who are ABAP developers in Poland?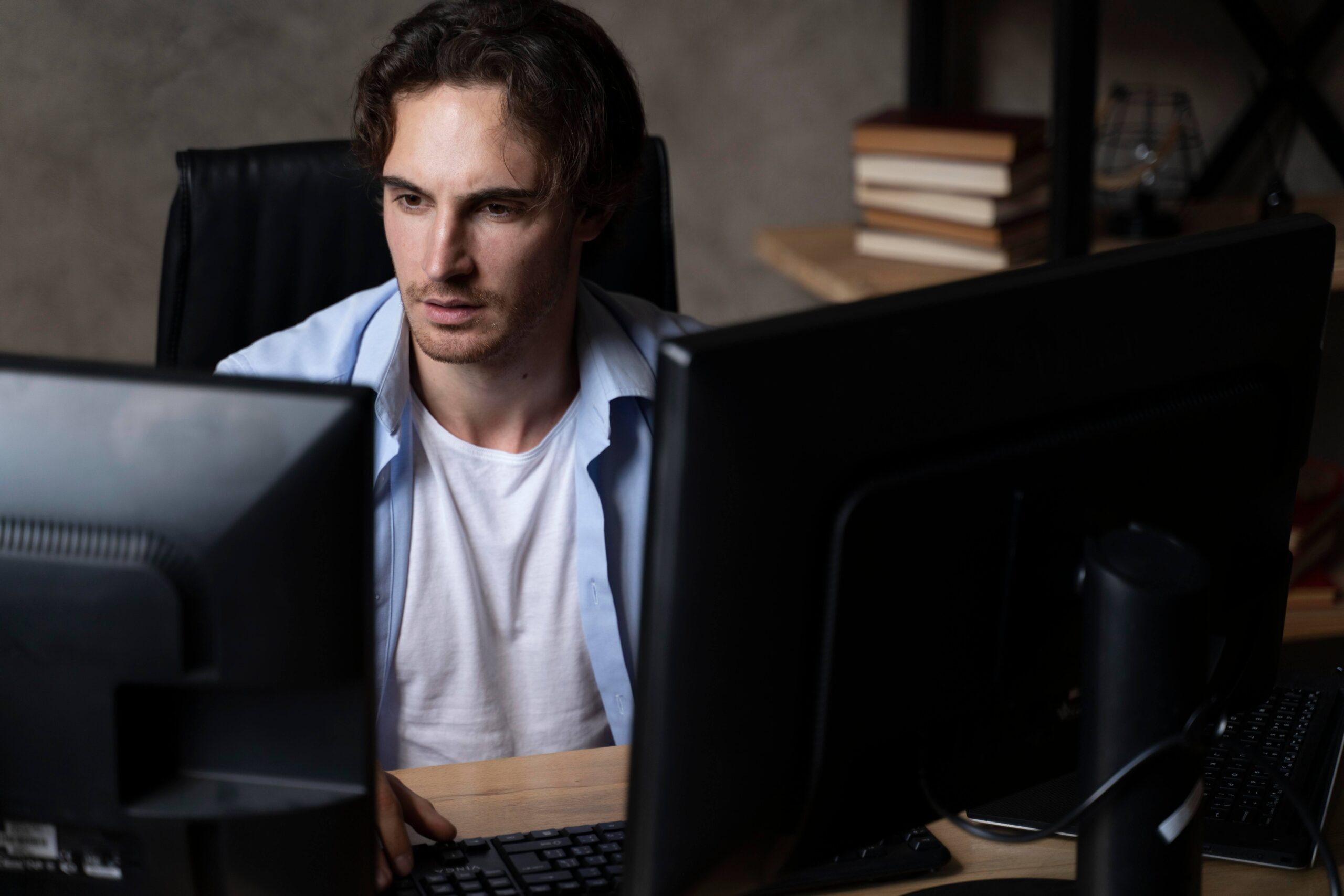 In Poland, approximately 3,000 companies use the SAP system, of which 250 are consulting firms, and 2,750 are organizations utilizing SAP to manage their business processes. An astounding 57% of them plan to hire ABAP developers in the near future. After EWM and FI/CO module consultants, this is the highest rate, according to a survey by Awareson. Who are they, and what do ABAP developers expect from their employers?
In early 2023, Awareson conducted the first comprehensive study in Poland of the SAP specialist community using market mapping tools, the Awareson database, and CAWI research among 566 SAP specialists and 69 companies. The results indicate that nearly 91% of ABAP Developers are men, making this the most masculinized segment of the SAP job market. For the entire SAP community, this figure is just under 75%.
Demographics: Young, Experienced, Educated
ABAP developers are statistically slightly younger than SAP consultants, with 19% of them being under 30 years old. Similar to the overall SAP community, the largest group in this category consists of specialists between 31 and 40 years of age, making up 51% of the respondents. This is a significant advantage in the Polish job market. With the current minimum retirement age in Poland being 65 for men, it can be assumed that they will remain professionally active for another 25-35 years. It is noteworthy that despite their relatively young age (in comparison, the largest group in Scandinavian countries consists of specialists aged 50-60), ABAP developers in Poland are highly experienced. Nearly 80% of them have worked in the profession for over 5 years, with 59% having more than 9 years of experience.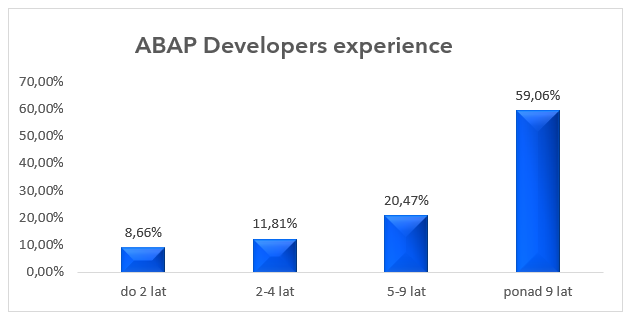 ABAP developers are also highly educated, with 95% holding a higher education degree, including one in five with postgraduate or doctoral studies. Most commonly, their education is in the field of computer science (56%), making them the largest group of employees with technical degrees in the entire SAP community.
These developers are also proficient in foreign languages. A total of 98% of them have a good or very good command of English, with 56% having at least basic knowledge of German.
An interesting fact is that as many as 12.3% of the entire SAP community, including functional consultants, plan to deepen their knowledge of ABAP in the next 3 years. This is a result of increasingly complex business requirements and the need to adapt the system to the specific needs of an organization.
How do ABAP developers work?
Developers are more likely to operate as self-employed individuals than consultants. A significant 56% opt for B2B contracts. In the case of the entire community, this percentage is just under 40%. This is primarily due to the predominance of men in this group of specialists. Employment contracts are preferred by women, who make up only 9% of ABAP developers.
Only 46% of developers work directly for companies that use the SAP system to manage their processes. The rest collaborate with agencies and consulting firms. This leads to a phenomenon known as "over employment." Almost one-third of ABAP developers work on more than one project.
For programmers, remote work is still predominant, with 3 out of 4 ABAP developers working remotely. The popularity of hybrid work is on the rise (20%), while only 4% of respondents work exclusively from an office, which poses a challenge for companies seeking to bring developers into physical office spaces.
Motivation for Work
Nearly half of ABAP developers are satisfied with their current salary. However, two-thirds still expect a raise, most commonly in the range of 10-20% annually.
ABAP developer Salaries:
| | | |
| --- | --- | --- |
|   | Mid | Expert |
| B2B (net PLN/h) | 150-190 | 190-215 |
| PERM (gross PLN/month) | 20 000-24 000 | 25 000-30 000 |
Money is the primary motivation for these specialists to change jobs. They also value opportunities for professional development, remote work, and the workplace atmosphere and quality of management.
Twenty-eight percent of respondents plan to change jobs in the next year, while an additional 37% are open to such a possibility. This is a result similar to the entire SAP community in Poland and, concurrently, the entire IT job market.
Market trends indicate that in the coming years, SAP specialists will be in a stronger negotiating position than employers. Foreign companies are increasingly interested in hiring experts from Poland, and developers and consultants are becoming more assertive in seeking such opportunities on their own. What does this mean for local companies? Hiring experienced SAP specialists will become increasingly challenging. Financial terms and development opportunities will be key elements in their job offers. Remote work seems to be a crucial factor.
Are you looking for ABAP developers? Fill out the form and we will contact you!
Download the Awareson report "Who sets the termes here. IT and SAP job market, 2024"
FIND OUT HOW WE SUPPORT THE BUSINESS IN DEVELOPING IT AND SAP TEAMS.
DO YOU WANT TO DEVELOP IN THE IT OR SAP AREA? CHECK OUT OUR OFFERS.